Today, we started taking a closer look at everything in the camper, taking some things apart to see what kind of work is going to need to be done. First order of business is starting to work on the most obvious item that needs to be taken care of, the canvas. We found a place online called Canvas Replacements that can make new canvas for us. Unfortunately, it's going to take 10 – 12 weeks and they need the original canvas shipped to them. Taking off the original canvas wasn't too difficult, just took some time and a square screwdriver bit. Here's what the camper looks like without the canvas.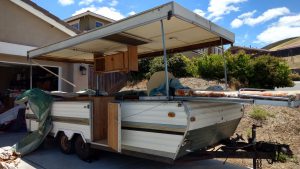 Now the bad part. While taking the canvas off, we found a little water. We had a little rain on Thursday morning and there must be a slight leak in the roof. There's no sign of water damage in the ceiling, but there's some water on the rear mattress. Might be a recent development. On the other hand, the other thing we found after removing the canvas was dry rot. That's going to have to be replaced. Roof sealing is also in order. Heard something about using spray on truck bed liner stuff, but will have to look at options.
Next, I started checking out some of the appliances. The fridge is powered by three different sources: Propane, AC power and DC power. Not sure yet if it works. I'll probably be able to check it out on AC power tomorrow. I took off the panels behind the fridge to check things out and clean it out a bit. Also took off the panel behind the heater to remove a couple of old wasps nests that were sitting back there.
Finally, I started looking into the electrical system. The AC wiring inside the trailer actually looks to be in fairly good shape. I might not need to replace that. The rest of it is a mess. I will most likely end up replacing the rest of it. The power cord for the camper is a 15 amp plug with the ground prong missing. It goes into a circuit breaker panel with a 15 amp circuit breaker (This probably needs to be GFCI for today's electrical code). From there, it goes into a transverter to bring it down to 12 VDC and over to the battery.
All of this needs to be replaced. The plan is to replace all of the low voltage wiring, the wiring coming into the camper, and replace the transverter with a descent 3-stage charge controller (hopefully one that will take AC and DC source power so I can add solar later). I need to think a bit about what kind of appliances we will be using in the camper before I decide if I want to put an inverter in there, or just bring along my 230W inverter I already have if I'm not plugged into shore power.